Programs
Flyers and information for each event can be found on our Facebook Page.
Arc Monthly Events
In an effort to fulfill our mission of creating opportunities for recreation, The Arc holds a monthly dance at local venues. The dances are held from 6:00 p.m. to 9 p.m. the third Saturday of the month. For more information, contact a board member.
Events Dates
September 21, 2019
Taco 'Bout Fall
October 26, 2019
Halloween Dance
November 16, 2019
Pilgrim & Indian Dress up Dance
Pet food drive benefiting Humane Society of NB
November 17, 2019 HSNBA
Drop off donations
December 8, 2019, 4:00 PM
Christmas Caroling
December 7, 2019
Christmas Party with Santa
January 18, 2020
Super Heroes Dress Up
Eye Glass Donation benefiting Lions Club
February 15, 2020
Talent Show
March 21, 2020
St. Patricks Day - Lucky Charms
April 18, 2020
Spring Fling
May 16, 2020
Prom
June 27, 2020
Summer Fun Dance
July
Arc Hiatus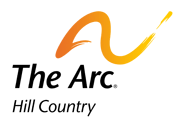 Stay up to date by subscribing to our blog! Receive monthly event flyers right in your email box and hear about the fantastic things your Arc of the Hill Country is doing! Click here to subscribe.
Check out our Photo Albums to see the Arc in action at past events
Board Meeting Dates
For location and time, contact a board member or watch for our monthly newsletter.
October 19, 2019, Noon Location TBD
November 9, 2019, Noon TJ's Burgers and More
November 30, 2019, Noon, Location TBD
January 11, 2020, Noon, Location TBD
February 8, 2020, Noon, Location TBD
March 7, 2020, Noon, Location TBD
April 4, 2020, Noon, Location TBD
May 9 , 2020, Noon, Location TBD
June 20, 2020, Noon, Location TBD